Optical Recycling
Analysis and Classification of Plastic Garbage
In order to recycle waste it is nessesary to separate it into parts as exact as possible. Today, a first separation is done by people into the parts paper/pasteboard, glass, plate, and plastic (Dual System). The next step in the separation process has to be done automatically and efficently by machines in order to come to an economic way of retrieval of raw materials.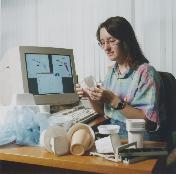 Whereas machines for sorting waste are available for paper/pasteboard, glass, and plate there is no promising solution for sorting plastic waste into different raw materials. Optical Recycling starts here:
Plastic Waste in an X-ray Image
Normally, sorting machines are not able to detect contents or enclosed objects like covers made of aluminium. Therefore plastic waste is processed by X-ray tomography in Optical Recycling. This allows us to detect non-plastic materials in the plastic waste. The X-ray power needed is more the 100 times less the power of a medical X-ray machine.
Each raw material has a characteristic absorption in an X-ray image. This property is used by Optical Recycling in order to detect non-plastic waste and other garbage.
Additionally the classification into plate and plastic has been improved. Therefore Optical Recycling is able to classify the processed objects into the different kinds of plastic.
Plastic waste after classification:

liquids (green),
Plate (blue),
Different plastics (red colors)
Non-plastic materials and liquids form only one class of problems. The other class comprise compressed plastic objects build of different plastic materials. In this case the X-ray image shows a superimposed signal.
Optical Recycling solves this problem by using tomographic reconstruction for the object perimeter. An exact calculation of the shape of the cross section is not neccesary. It is sufficent to state that compressed objects are shown in the actual image and therefore a typical classification cannot be performed. The reconstruction is time efficient and the real-time capabilities of the systems are preserved.
The application of the algorithms used in Optical Recycling is not limited to the classification of plastic waste. Further work is done in the field of the detection of explosives in bags, envelops, etc. comprising the detection of plate in letters and the complex task of automatic inspection of bags in airports.
Project staff