interactIVe
Started in 2010, the European research project interactIVe takes the next step towards our vision of accident-free traffic, thanks to active intervention technologies in intelligent vehicles.

The interactIVe (accident avoidance by active intervention for intelligent vehicles) project addresses the development and evaluation of next-generation safety systems for intelligent vehicles. Based on active intervention the driver will be supported in hazardous situations. In contrast to currently available advanced driver assistance systems (ADAS) that are typically implemented as independent functions, interactIVe is based on the concept that by integrating applications together, vehicle components may be shared among the various safety systems.
interactIVe is composed of seven sub-projects. Three sub-projects address the specification, design, and realisation of interactIVe applications. They analyse the use cases, define requirements and develop the interactIVe applications.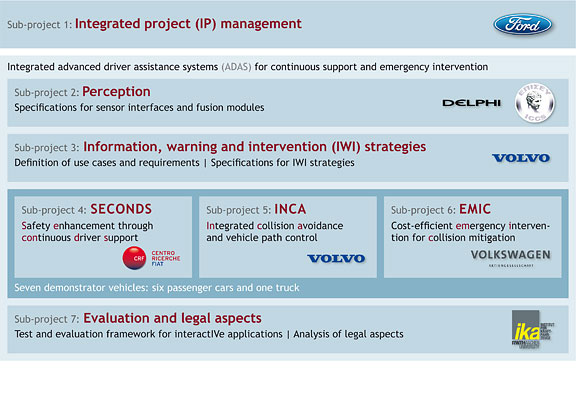 Later on, the relevant components, such as sensors, software modules, algorithms and hardware devices are integrated and implemented into seven demonstrator vehicles by the sub-projects SECONDS,INCA, and EMIC.
Perception - monitoring and interpretation of road environment
Sensing environment is a major cornerstore for many intelligent vehicle applications (collision avoidance, collision mitigation, lane departure warning, adaptive cruise control). Within the interactIve integrated project the perception platform represents an essential part of the system. For advanced safety systems, highly reliable information about the vehicle's environment is required for the control of actuators. By combining the information from different sensors, innovative sensor data fusion methods will be pursued to achieve a high degree of sensor reliability and to obtain a more solid information about the environment. Apart from well-known sensor technologies like radar and vision, information sources such as digital map databases and C2X communication will enhance the perception of the environment.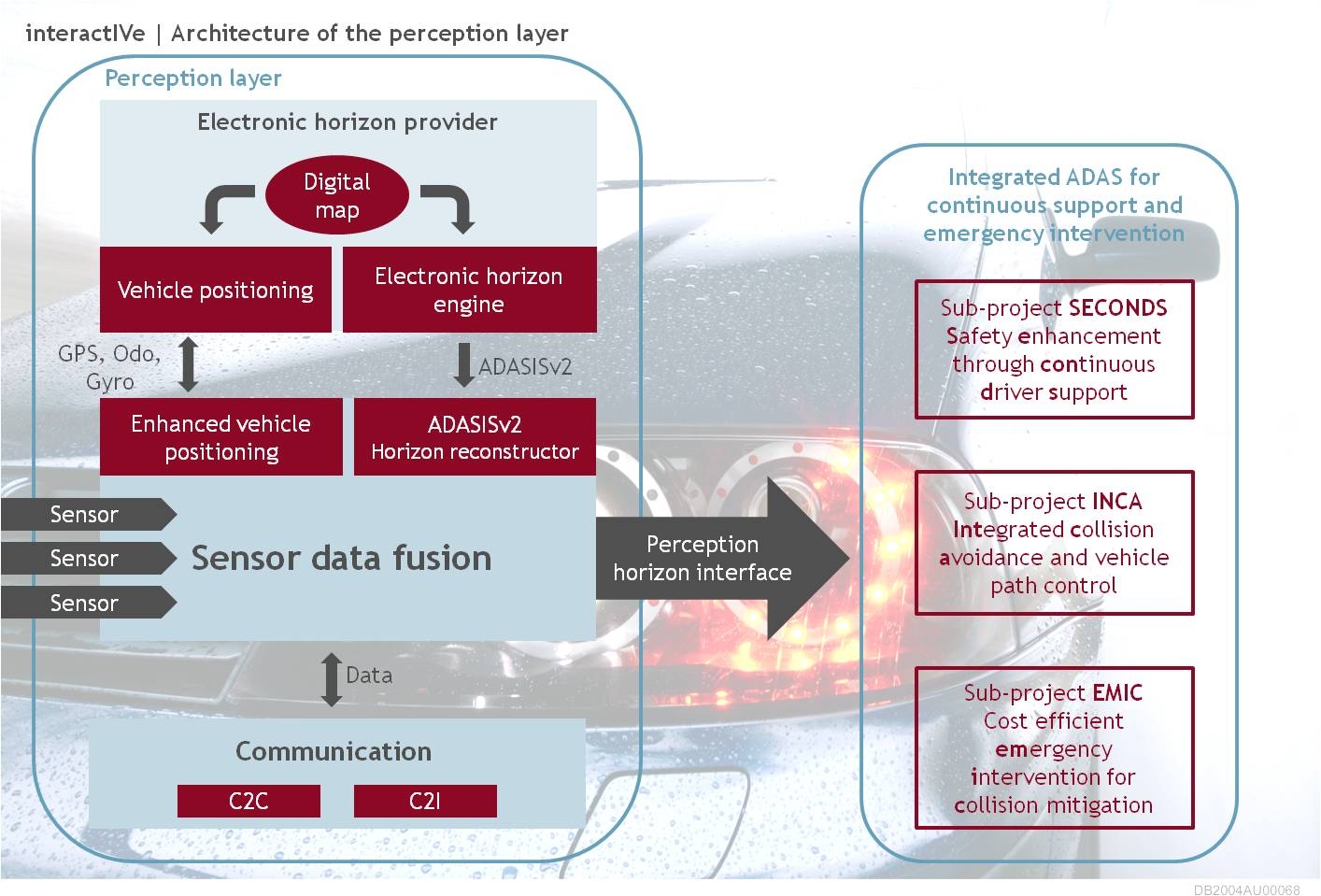 Perception will advance the multi-sensor approaches and focus on sensor data fusion processes. A common perception framework for multiple safety applications and the unified output interface from the perception layer to the application layer will be developed. Perception will integrate different information sources like sensors, digital maps, and communications while the range of possible scenarios and the usability of ADAS by multiple integrated functions and active interventions is extended. The development of an innovative model and platform for enhancing the perception of the traffic situation in the vicinity of the vehicle will enable improved strategies for active safety and driver-vehicle-interaction.
FORWISS will investigate and apply novel research approaches to improve the efficiency and quality of sensor data fusion. Especially we are engaged on attention-focused data fusion for emergency situations by controlling the fusion system based on areas of interest. This includes ways to trigger the perception system from the application in order to prioritise certain objects in close environment, verification of these objects in an emergency mode and returning to standard processing. We are developing f.i. modules for the recognition of unavoidable crash situations and camera based road detection systems.
| | |
| --- | --- |
| Duration | 1/1/2010 - 30/11/2013 |
| Consortium | 29 partners from 10 countries |
| Homepage | interactIVe |
| Fact Sheet | Link |
| Newsletters | Ext. Link |
Project staff